President's Message from Louis Amato-Gauci, upon his elevation as ALTP's new president.
[On June 27, 2022 at ATLP's 93rd Annual Meeting held in Kansas City, Missouri Jameson Rice passed the ATLP's president's gavel to Louis Amato-Gauci.  Louis delivered the following remarks to the assembled members.]]

I'm deeply honoured to serve as president of this venerable association, the oldest organization of its kind in North America. I am excited about this upcoming year, and confident that I can count on all of you to help make it a resounding success.

I joined ATLP as a relatively young lawyer, who was just beginning to explore the boundaries of transportation law. I attended the ATLP annual meeting in Memphis, met a few folks and marveled at the depth of their expertise in this niche area of practice, but really had no idea what it takes to make an organization like this run smoothly.

I quickly discovered that much of the credit for the continued success of ATLP is due to the efforts of Lauren Michalski, our Executive Director for many, many years, who has truly been the heartbeat, life and soul of the association. There is something magical about Lauren. I met her when she and I sat at the back of the bus – where all the rowdy kids sat – heading to the midnight tour of the FedEx Hub. By the time that trip ended she had me signed up as a speaker for the next event, followed in rapid succession by an invitation to: (i) publish a paper in the Journal; (ii) serve on the program committee for the next meeting; (iii) co-chair the committee with Jameson for another meeting; and the rest is history.
That's how Lauren operates. She makes every new member and first-time attendee feel at home, active and engaged. I know it worked on me, and so many others over the years. We owe her a debt of gratitude, and I want to thank her for her long years of service to the ATLP.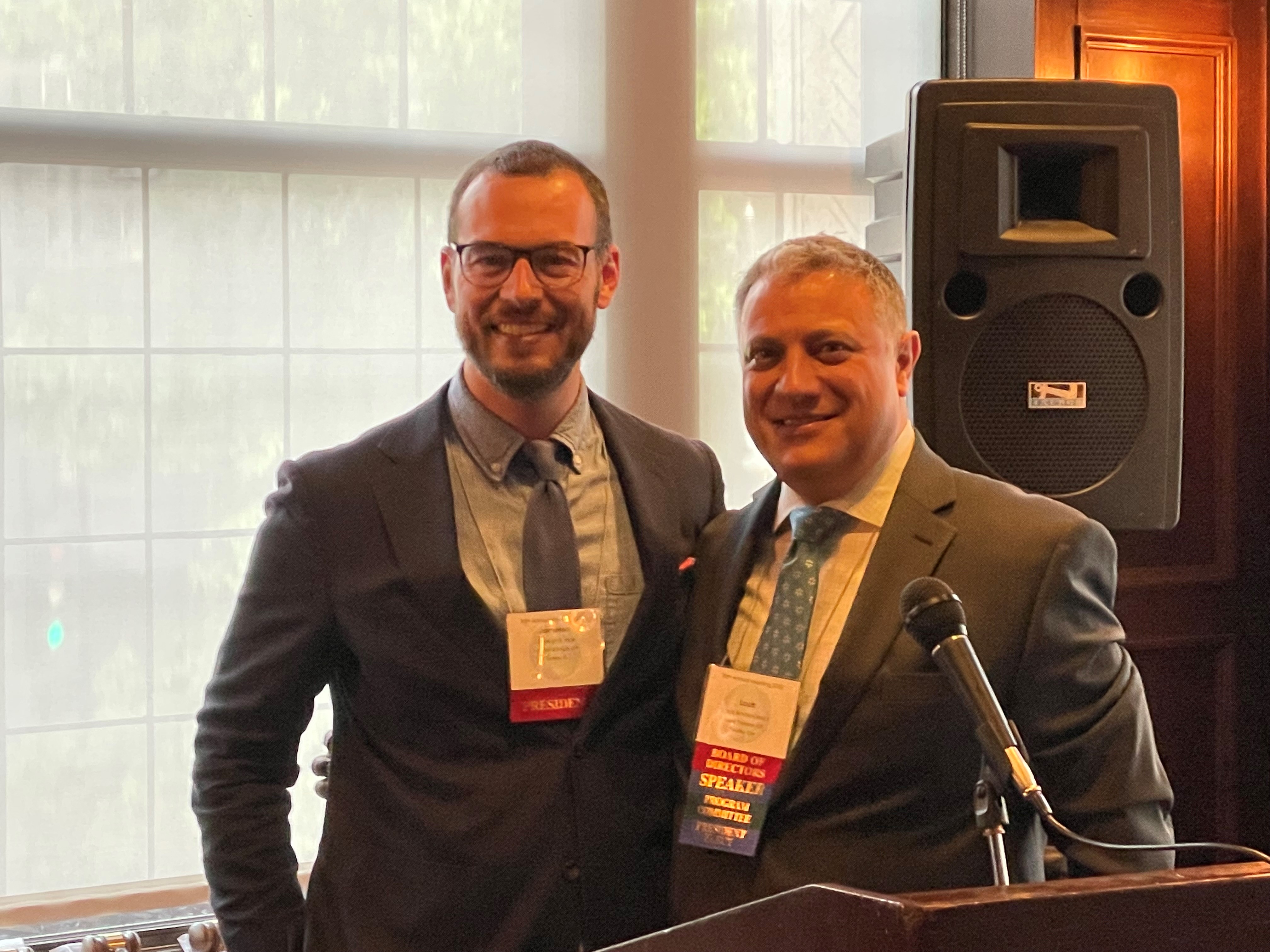 I want to congratulate Jameson Rice for a very successful presidency. With the help of our membership committee, he has launched the TEAMS initiative, starting with a dedicated committee of in-house corporate counsel and government agency practitioners. His was a steady hand on the tiller as we navigated the choppy waters of a seemingly endless pandemic, and I thank him for getting us back on track by planning ahead for a live, in-person event in Kansas City, even when the path forward was none to clear. He's done an amazing job, and while his official duties as president may be at an end, I know that he will continue to make his counsel and guidance available to the Board of Directors and the officers of this organization, and for that I thank him in advance.
Congratulations to Nick McCann, Kristine Little and Tyler White, who join the Board of Directors as Vice Presidents. Each of them has enriched our organization through their work on various committees and initiatives. I know there are great things in store for them, and for us, with their active and enthusiastic participation at future meetings of the Board. Thank you all for agreeing to serve our Association in this way.
Thank you, Tony Swafford, for your hard work on the Membership Committee, and congratulations on your new role as secretary. You lucky man! You must have done something terrible in a past life. If you need any pointers, reach out to Bradon Smith, who did yeoman's duty this past year as secretary and interim treasurer. Much to my relief, he has agreed to serve as treasurer again this year. We owe much to Bradon, and I thank him for his extraordinary commitment to the ATLP.
Congratulations to president-elect Justin Marks. I am not aware of any ATLP committee, task force or think tank he has not been involved in, nor any job that needed doing which he declined to take on. A graduate of the University of Denver transportation law program, this man is a lifer. He is a natural fit for this leadership position. Whether I complete my full term as president, or manage to get myself impeached midway through the year, we can all rest assured that Justin brings the promise of a bright future for our association.
I want to thank the Ex-Officio Directors of this Association and all the other board members. All of these folks have been active members of the ATLP for as long as I can remember – serving on program committees or the publication committee, sharing their knowledge by moderating and speaking on panel discussions at ATLP events and preparing articles for publication in the Journal or for the Highlights blog/newsletter – and they continue to give their time freely, in so many different ways.
My goal for this upcoming year is to expand the pool of volunteers, get some new faces on committees and continue to develop the next generation of future leaders for the Association. If any of you out there are interested in exploring what you might be able to do, just ask. Give me a call, or talk to any member of the Board of Directors, and do get involved. We need your energy and fresh perspectives to keep this organization vibrant, forward-looking, and strong. And of course, talk to one or two friends and colleagues about ATLP, and help us grow the association by introducing them as new members.
Please extend a warm welcome to our new Executive Director, Melinda Canter. With her impressive track record in the areas of marketing, member relations, communications and event production – plus of course her sparkling personality and can-do attitude – her skills will be invaluable to the ATLP in the years to come. Welcome aboard, Melinda!
We would not have met Melinda if it had not been for the considerable efforts the ad hoc executive director search task force. In this regard, I thank my fellow recruiters: Jameson Rice, Pete Pfohl and Justin Marks.
Please save June 24-27 on your calendars for ATLP's 2023 annual meeting in my hometown – Toronto, Ontario.
Share this post: